Home > Products > iCare Data Recovery Standard > Howto >Restore lost files from Flash Drive
Restore lost files from Flash Drive
iCare Data Recovery Standard - solution for flash drive file recovery
Restore files from Flash Drive? USB flash drive Windows Vista/XP needs file recovery? Restore usb flash drive? restore from flash drive? flash drive recovery software?
If you concorned about flash drive file recovery or any similar above situation, it is the right place and right solution for you as iCare Data Recovery Standard is able to retrieve files lost from flash drive when it was formatted, deleted, virus attacked, raw file system and reads 0 byte while there were many files in it ...
All you have to do is to download this program for free and search lost files and preview lost files before purchase. This program is easy to use, all you need to do is to follow its steps, choose a recovery module (for different data loss), and then start file recovery.

---
Retrieve lost files from flash drive
Flash drive is a convenient and easy to use storage meida that are mostly used in portable devices for us to carry data. Sometimes we need move files from one place like home PC to other PC like office PC and move the work we did at home, then flash drive is extremely easy to take as a smart storage device. When pasting files, copy files, move files, Flash drive data loss can be a nightmare for everyone. As the time of using flash drive incrases, the data loss chances increases too. What shall we do if we deleted files from the flash drive? formatted flash drive by accident and need a recovery of the files?
Someone may think your flash drive is quite different from you hard drive whatever its construction and its data store method so it is impossible to recover a flash drive. In fact the file loss is kind of same with the PC hard disk drive. And all the files can be recovered by some data recovery software to recover lost data from a compact flash drive.
Connect your flash drive to a PC and let the flash drive recovery software do the rest for file recovery.
Go to "Advanced Recovery" for deleted file recovery
Select your flash drive where you lost files and you will see your deleted files.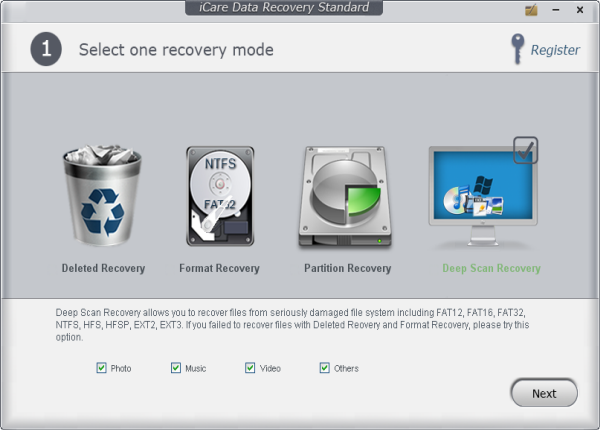 This picture shows files that were deleted and was found by iCare Data Recovery Standard. You can also download a demo to search deleted files.
Someone with the same situation:
Yesterday I went to the net cafe to save my typing job files and its about 7 pages. In their computer my flash drive works well and the it said trojan removed and oh I give thanks to them but the trouble their is that when I open it in my personal computer my flash drive is empty but in if you gonna to go properties on it has a used space and if I gonna scanned it there's no virus on it and I thought it is in the hide mode but it's not. Can somebody helps me about this problem?
This program iCare Data Recovery Standard is the right solution for flash drive file recovery.
Supported media:
Flash drive, memory card, hard disk drive, USB drive, external hard disk, pen drive etc.

---
Related Articles