Partition Recovery
Recover Files from partition(damaged, copy failure, ghost failure, resize failure, deleted, bad mbr, lost partition table, bad partition table, not recognized)
Partition deleted by accident? Partition unreadable, not detected? disappear under Disk Management? Encounters bad MBR? Run into bad partition table?
How to get files back from bad partition or deleted partition? Try Partition Recovery by iCare Data Recovery to restore files.
Download it free and search lost files for free!

When your partition is lost due to deletion by mistake, virus attacked, MBR damaged, drive not detected by PC; or files lost for other unknow reasons, you can take files back via "Partition Recovery", a built-in recovery wizard in iCare Data Recovery Standard
Partition deleted by mistake
MBR damaged or corrupted
Drive or removable storage device like sd card, usb drive, flash memory not detected by PC
Drive inaccessable
Partition unreadable
FAT corrupted
more...
Tips: formatted partition, camera card, removable drive etc, please try "Format Recovery"
Tutorial: Step by Step Guide to Recover Files by "Partition Recovery"
Step One: Download iCare Data Recovery Standard
Download and install notice: please do not download and install the exe file on a partition you lost files.
Step Two: Start iCare Data Recovery Standard from the desktop icon once you have finished the installation or you might also be able to start it from "Start-->Programs-->iCare Data Recovery Standard"

Step Three: Select "PC Partition Recovery" which is on the very left corner.

Step Four: Select the hard disk where partition is lost or deleted or not detected. And click "Recover" to find the lost partition.
Step Five: Let the software scan all possible partitions on your selected disk.

Step Six: When scanning device finished, there would be a list of partitions, be free to click "Show Files".

Step Six: After clicking "show files", there will be a list of lost files, you can check whether it is your lost files.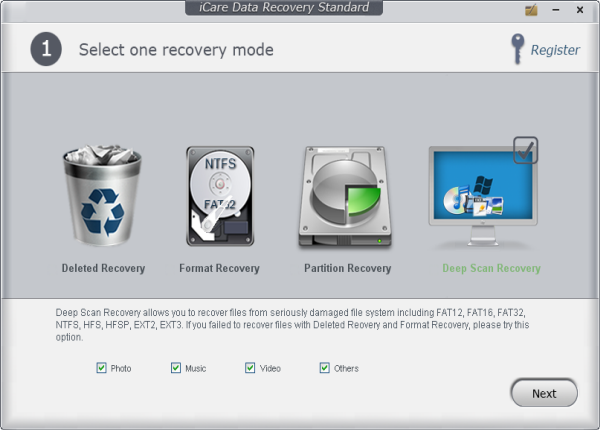 Tips that may work for you when you have lost partition or partition missing or partition moved or resized:
iCare Data Recovery Standard will show a list of possible partitions after you select a disk to analyze partitions and finished scanning partitions. How to select the right possible partition that may contains your data? Usually there would be a auto selected partition with highest match possibility, you may click 'Recover Files' to see whether your files are there. If the auto selected possible partition does not work, please select other listed partitions which are similar to your partition orginal size and then click "Recover Files" to see whether it finds your data.
Free download iCare Data Recovery Standard to recover your files from lost partition!

iCare Data Recovery Standard Features:

Quick or complete format recovery on FAT16, FAT32, and NTFS partitions.
Recover partition files deleted by accident.
Partition failure when copying or ghosting to the wrong drive.
System crashes and not able to open the partition or files are gone.
Data recovery from quick or full formatted usb drive, pen stick, camera sd card, flash card, memory card, removable drives etc.
Recover files & folders formatted through the Windows Command Line or from DOS.
Recover files & folders formatted through disk manager tools, such as Partition Magic.
Support localized and long filenames.
Compressed files recovery, encrypted file recovery supported.
Preview your lost files before register the full version.
Download Free | Read More about iCare Data Recovery Standard
Related tutorials: