5+ Free Samsung Phone Recovery Software (Galaxy/Note/Tab)
Background
Since Samsung Galaxy phone owns storage space on its internal phone memory plus users may insert another micro sd card to the mobile to extend storage capacity, the photo/video recovery on Samsung Galaxy replies on two parts that users may need different programs for rescuing their deleted images or videos.
Part 1

- Recover deleted photos from Samsung galaxy micro sd card [memory card] - 2 freeware

Part 2

- 9 Best Photo Recovery Software for Galaxy Internal Memory [phone memory] - (3 free + 6 paid tools)
Warning - Please stop using Samsung Galaxy for taking more photos, videos or writing more notes no matter on the memory card or the internal memory since any further change may cause lost data permanently overwritten.
Part 1 - Samsung Galaxy SD Card Recovery Free Download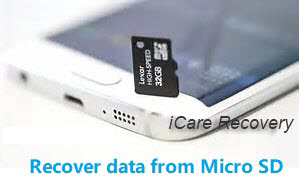 This freeware iCare Recovery Free works for undeleting Samsung galaxy photos, video files that you stored on your mobile micro sd card, mini sd card or any memory card that you used for your Samsung galaxy phone.
What you need for this free Samsung galaxy memory card photo recovery?
-> A computer (Windows 11/10/8/7), and a micro sd card reader/adaptor.
Why a card reader is required? If you connect your sd card to the computer with your phone, the freeware can not detect it. It can only work when your micro sd card is connected to a computer with card adaptor, or laptop memory card slot.
Step 1 - Freeware iCare Recovery Free download, install and launch the Samsung memory card recovery software on your PC. Choose a recovery option. Connect memory card sd microsd to PC via card reader.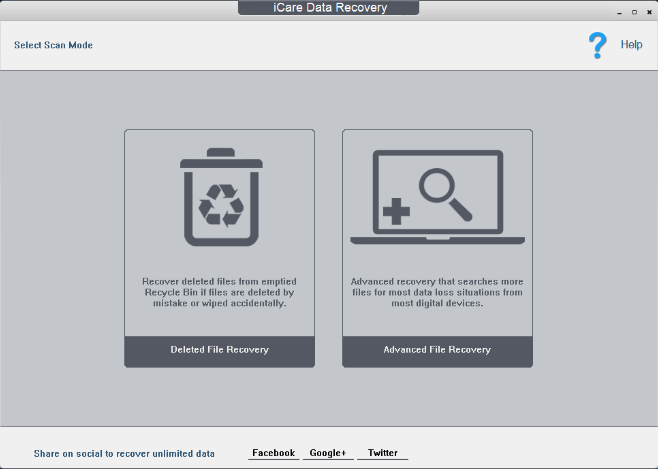 Step 2 - click the drive letter of the Samsung mobile phone or memory card and click "Next" button. and wait while the software scans your samsung media.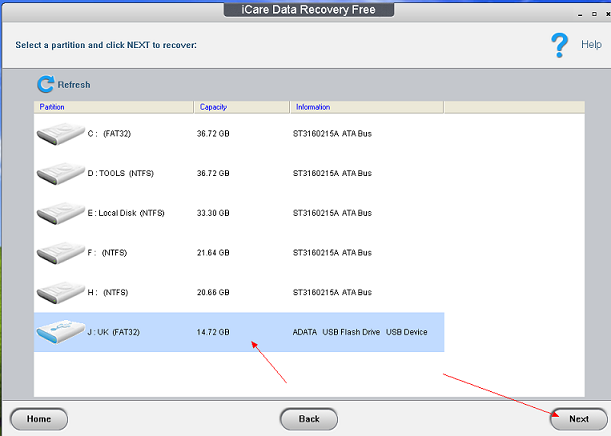 Setp 3 - after scanning, select the photos video and other files you need and save the selected files to the computer.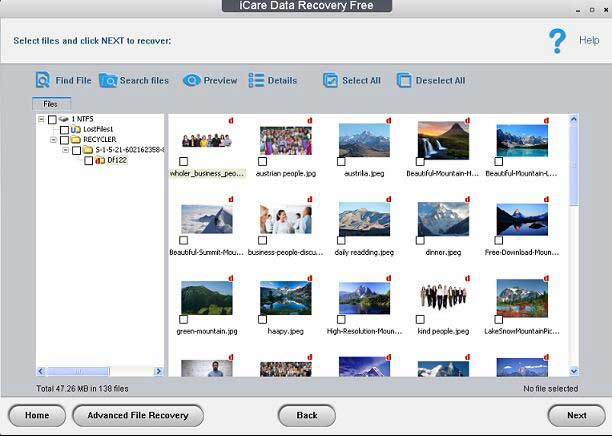 Video guide and more details on this page: How to use iCare Recovery Free
Tip: if you choose the original mobile phone or memory card as the destination path folder, it is overwriting the old files(data destruction). Therefore, you need to choose another storage device as the destination for recovered files storage. And usually we would recommend you save data onto a computer hard disk. Later you may move all data to your phone once all data have been rescued.
Freeware 2 - Recuva for Memory Card Recovery Not Android Phone Internal Memory
NO RECUVA FOR ANDROID!!!! (We will introduce some free alternatives later)
Many users are looking for Recuva for Android trying to find a download link of this program and hope there is such tool for android phone internal memory data recovery, however Recuva is only available on Windows computers, Windows 10, 8, 7...
Recuva supports recovering data from sd card if it just happened that your sd card on your phone needs a recovery.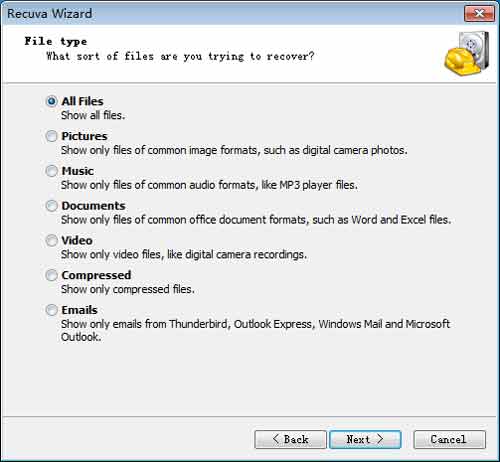 Freeware Download url: https://www.ccleaner.com/recuva/download
Note: Recuva has free and paid versions, if you do not want to use its professional edition, be free to use the free version since the free one shares the same functions as the paid edition.
More freeware for sd card recovery, be free to visit: top free data recovery software
Part 2 - How to recover deleted images/videos from Samsung phone internal memory
Also read: how to recover deleted photos from Samsung
If its the mobile phone internal memory where data were stored, then the tools in the Part 1 won't work. Here comes the Part 2 - Samsung galaxy internal memory recovery freeware when you need to recover data from the mobile.
Before the galaxy phone recovery freeware, here are some extra tips for a recovery without any tool if possible depending on whether a previous backup or cloud service was applied.
Restore Data from Cloud Backup
However if there was no previous backup, don't worry, there are still chances for a Samsung Galaxy data recovery with the following free and paid tools.
3 Free + 6 Paid Samsung Galaxy Data Recovery Software
Usually we won't recommend you download android phone recovery app to perform the recovery on the mobile since it is overwritten to old data when you are downloading files onto your phone memory nevertheless saving lost files to the same mobile, which is definitely suicide in data recovery.
#1 - DiskDigger [Freeware]
You may search 'DiskDiggle' in Google Play store to get it loaded to you mobile for a recovery. You may directly perform a Samsung phone recovery without a computer with Diskdigger.
Platform: this app can directly be downloaded from Google Play to your galaxy. You are on your own luck whether it could restore your data.
It does not require a phone to be rooted, however if you did, there are better chance of recovery.
DiskDigger Free to recover deleted photos, videos from mobile for free
DiskDigger Pro to recover more files besides the images and videos and this edition requires a pay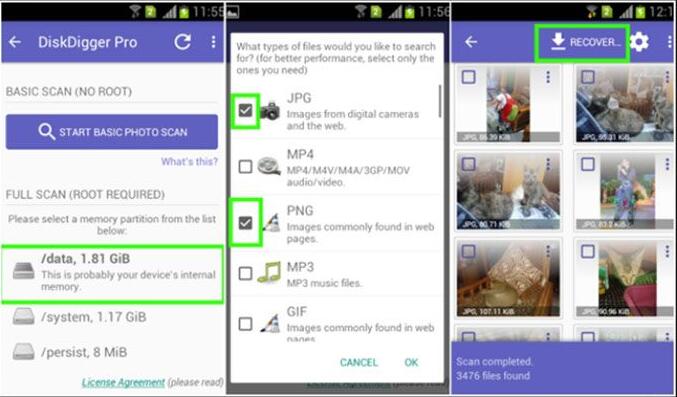 DiskDigger for Android Phone Recovery
Download url: https://play.google.com/store/apps/details?id=com.defianttech.diskdigger&hl=en_US
Video - How to recover deleted photos from Phone using DiskDigger
Or Another Video Guide with DiskDigger
Also read: free android phone data recovery software
#2 - MiniTool Mobile Recovery for Android Free [Free to save 10 files each time, $39 to extend the limit]
Working on Windows computer, this mobile recovery tool works for all types of Samsung phones, which means you need a computer to install the software and connect your Samsung galaxy to the computer and perform the recovery.
Download this free tool to your computer for a galaxy phone recovery
Download url: https://cdn2.minitool.com/?p=adr&e=adr-free
#3 - Easeus MobiSaver for Android [Free trial, free to save 1 file at a time, needs a pay for more]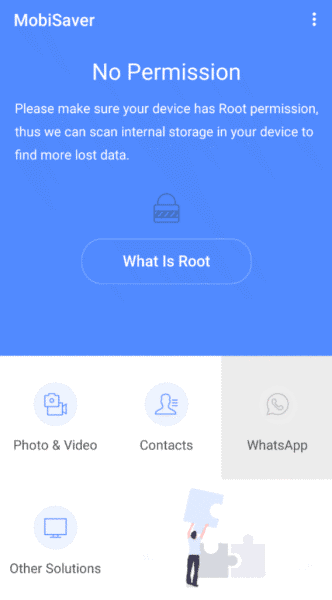 MobiSaver for Android Phone Recovery
MobiSaver provided by Easeus provides a simple user interface that is easy to start for a starter to operate a mobile phone data rescue.
Platform: Windows 11/10/8/7; You need to connect your phone to a Windows computer for recovery.
Download url: http://down.easeus.com/product/emsa_free
#4 - Stellar Data Recovery for Android [Needs a pay]
This mobile recovery tool works for all types of Samsung phones
#5 - Phonerescue for Android [Shareware, free trial, needs a pay]
#6 - Dr. Fone Data Recovery Android from Wondershare [Needs a pay]
#7 - MyJad Android Phone Recovery [Needs a pay]
#8 - Jihosoft Android Data Recovery [Shareware, free trial, needs a pay]
#9 - Dr. Fone Data Recovery Android from Wondershare [Needs a pay]
Other FAQs
??? Is there Recuva for Android recovery download?
Answer: There is no Recuva for Android. Recuva is only made available for Windows 11/10/8/7 and more Windows OS for a recovery.
Further reading: recuva for android phone
memory card recovery for samsung gt s7562
How do I recover images from Samsung gt s phone memory card?
The answer: insert sd card to computer, run iCare Recovery Pro and scan Samsung mobile memory card for photo video recovery.
Other related information about Samsung Galaxy data recovery
Recover deleted photos data video from Samsung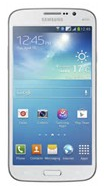 Lost photo or video in your Samsung digital devices like Galaxy S3 S4 or Note, or Samsung Tab microsd card? Don't worry! These data if stored on a micro sd card, or mini sd card can be restored by iCare Data Recovery Free for no cost:
Recover photos from Samsung Galaxy S, S2, S3, S4, S5, S9, S10, S20, S21, S21 ultra, Samsung galaxy a12, a71...
Free recover files from Samsung Galaxy Note series such as Note2, Note 3, etc
Restore images, music, videos, etc off Samsung Galaxy, Note or Samsung Tab
Resolve data loss problem on Samsung after deleting, formatting or Samsung shows error.
Preparation:
1, Stop using Samsung digital media to keep it from further damages
2, Get memory card sd microsd out of phone to connect to PC via a card reader, or Connect Samsung to PC if its internal memory needed data recovery and download iCare Data Recovery Pro and start the recovery.
Recover Data after Deleting from Samsung Mobile Phone
Now, let's imagine the cases that you may delete photos from a Samsung mobile phone. You are viewing a nice picture, but all of a sudden you delete it since you click the wrong option?
Or you mistakenly delete a precious photo instead of the unimportant one?
Or you delete the photos since it shows data error and disables you to access it?
Or the photos are deleted with unknown reasons during the transferring process?
Or you accidentally delete all photos while you just want to delete some?
Or you just pressed the format option on Samsung digital devices, or You pressed one button to factory setting and then everything is no longer there.
List of Samsung Devices
Samsung Mobile: Samsung Galaxy S, Samsung Galaxy S2, Samsung Galaxy S3, Samsung Galaxy S4, Samsung Galaxy Grand, Ultra Smart, Samsung Galaxy Note, Samsung Galaxy Note 2, and more. Samsung mobile is fashionable in design. The screen and ring of Samsung mobile phone appeal to its users. However, Samsung mobile is often expensive so it is difficult to be targeted at the low end of the market.
Samsung Tab: Samsung Galaxy Tab 2, Samsung Galaxy Note 8.0, Samsung Galaxy Note 10.1, etc.
Other Samsung Devices: Samsung digital camera, external hard drive, memory card, etc.

Some errors may come up to your Samsung Galaxy or Tab, or Note like:
The device is not connected, please try again; SD card not detected, please try again; SD card is not formatted, SD card is reformatted by mistake.
Last updated on May 14, 2023
Hot Articles