Recover data from formatting

How to recover data after format? How to restore formatted data? Is it true: Warning: Formatting will erase all data on this disk. To format the disk, click OK. To quit, click CANCEL.
--> If you clicked 'OK' and did the formatting, formatted data would be inaccessible from vision but it could be restored by program- iCare Data Recovery Pro, which was developed for recovering files when you did formatting on your hard drive external hd mobile sd memory card etc
Free download this best format recovery utility - iCare Data Recovery Pro can recover deleted files, photos, video clips etc when you want to recover data after format after accidentally formatted storage device.

>>Quick Solution to repair Formatted Data
Download iCare Data Recovery Pro to restore files from hard disk, pen drive, USB flash drive and memory card after mistakenly formatting.
iCare Recovery helped user for WD USB Disk Recovery that was Formatted
More feedback from real users...
How to restore deleted data after reformat drive memory card sd flash drive
Step1. Download iCare Data Recovery Pro for data recovery after format. Plug the reformatted media to your computer if it is external devices, if it was sd memory card on your phone/camera, connect the sd with card reader to computer. Choose a recovery module.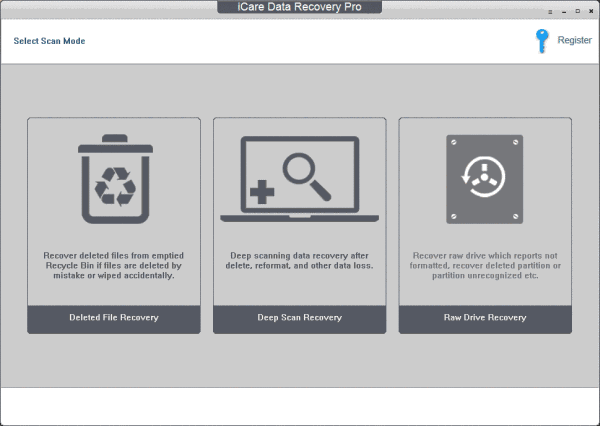 Step2. Select the drive to scan.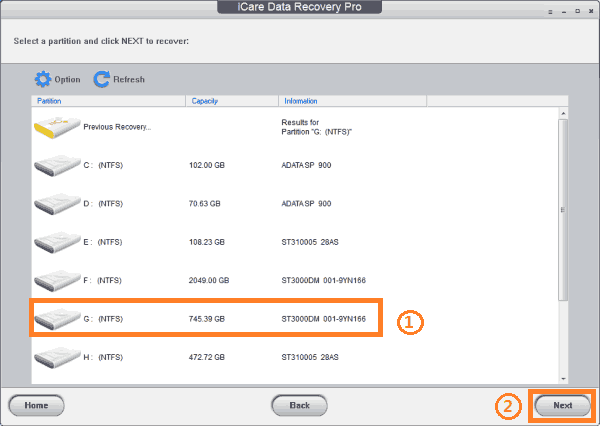 Step3. preview the found files and choose the files lost from the formatted drive, save them to another storage media.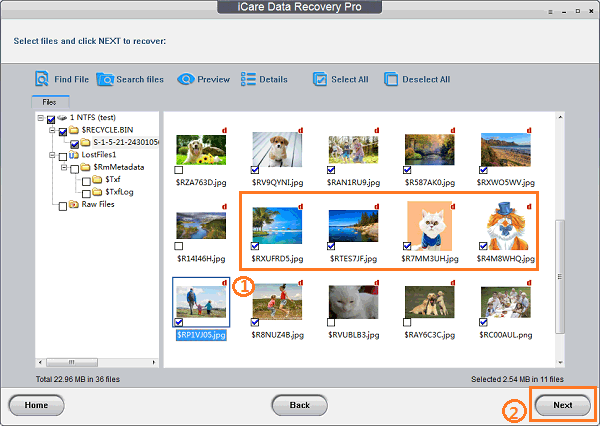 Recover data after format resource
Recover data after format storage media: There are many storage media on the market and you performed the following format like formatted removable hd, formatted sd memory card, formatted usb flash stick, Music data, Video files, image photos... Recovering data format drive is possible by iCare Data Recovery.
iCare Data Recovery works with the following hard disk drives like IDE/SCSI/SATA I/SATA II disk. Recovering data after format hard disk is possible no matter what kind of formatted Maxtor hard disk , Hitachi hard disk, Western Digital hard disk files recovery, Seagate disk file recovery, samsung hard disk recovery, Fujitsu hard disk data recovery.
iCare Data Recovery has the ability to recover data after format memory card / stick, removable hard disk, flash drive, SanDisk sd card, pen drive... It works fast and restores deleted files after format no matter complete format or quick format you performed. It can recover files even you reformat your SD card, CF card, XD card or memory stick.
>> Download the software now to search lost files now since it is the best to recover files from formatted drive once reformatted by mistake!
How to Recover Files after Formatting Hard Drive / External HDD?
Accidentally formatted external hard disk by mistake? Recovering files from formatted hard drive? Please stop using the reformatted external or internal hard drive right after the reformat to keep the best chance of data recovery.
Download iCare Data Recovery, the internal / external hard disk format recovery software for data recovery after 2TB disk, 3TB disk or more formatted by mistake. Recovering files from formatted disk of various brands like seagate, wd, samsung, toshiba hard disk.
RAID format recovery is possible with iCare Data Recovery is you formatted Raid disk recovery (RAID 0/RAID 5,IBM/HP/Dell/Intel)
Recover data after format SD memory card
Memory card reformatted by mistake or quick formatted memory card sd? You might format a CF card by mistake or CF card needs to be formatted. For whatever reason, you can recover data after format memory card like compact flash card, sd card, sandisk sd, memory stick.
Restore Photos after Formatting Android
Performing formatting on an Android phone can erase SD card inserted in the phone or wipe the internal storage of the cellphone, so be careful when you execute format on your mobile phone to avoid formatting the wrong media. To avoid such a mistake, you had better connect your phone to computer and select the right media to format. To recover a formatted phone data, you also need to plug it to a pc using iCare Data Recovery Pro.
Recover Files after Format Windows 7 as well as WinXP/8/10
Formatting is an irreversible process, so there is no time to regret once you confirm to format any device. Although you cannot change the operation of formatting a drive, you can recover data lost due to formatting. Everything goes easy if you had backed up the device before formatting. Otherwise, you have to rely on a data recovery utility.
Users That Run into Trouble in Format Recovery
There are many cases that pc users are in need of data recovery format drive, so don't worry when your drive is mistakenly formatted and needs file recovery.
iCare Data Recover is able to help the user - "While attempting to format and reinstall XP, I formatted my backup harddrive where I keep some files. Is there any way to recover some of the data that was on there or is it lost forever?"
iCare data recovery can do help this user - "I have unfortunately formated my d drive instead of my c drive and have installed Windows xp on both partition i do want to get my data back from my formated d drive where i have installed xp now. I do have 2 OS both XP 1 on C and other on D" - a user
---
Hot Articles