Best Bad Sector Repair Tools on Windows/MAC
This page introduces ways to repair bad sectors with or without bad sector repair software on Windows computers or MAC.
Note: Pleasse backup data on your device before the bad sector scanning and repairing. It's better to copy all the drive to another disk. (IM-Magic Partition Resizer provides copy disk, scan and repair bad blocks, erase disk etc. for totally free.)
Note: If you want to recover data from your damaged storage device, try iCare Data Recovery Free which is 100% free and it can restore unlimited data.
| | Bad Sector Repair Software (Windows) | Remark | Links |
| --- | --- | --- | --- |
| 1 | IM-Magic Partition Resizer (Free) | Super easy to use plus it's copy disk, wipe disk option that you may use in this procedure | Download | Tutorial |
| 2 | USB Disk Storage Format Tool (Free) | Easy to use | Download | Tutorial |
| 3 | MHDD (Free) | DOS window, not easy to manage | Download | Tutorial |
| 4 | Victoria for Windows (Free) | Old, Not easy to use | Download | Tutorial |
| 5 | HDD Regenerator (NOT FREE, $59) | Not free | Tutorial |
Quick Navi
#1 Repair bad sectors on Windows computer without software
It's cost free to repair bad sectors on your Windows computer with it's built-in utility ERROR CHECKING that can be easily accessed if you open your storage drive in THIS PC or MY COMPUTER, and then right click, go to Properties.
Route: THIS PC(open this pc by double clicking) -> Right click your drive -> Properties -> Tools -> Check -> Repair drive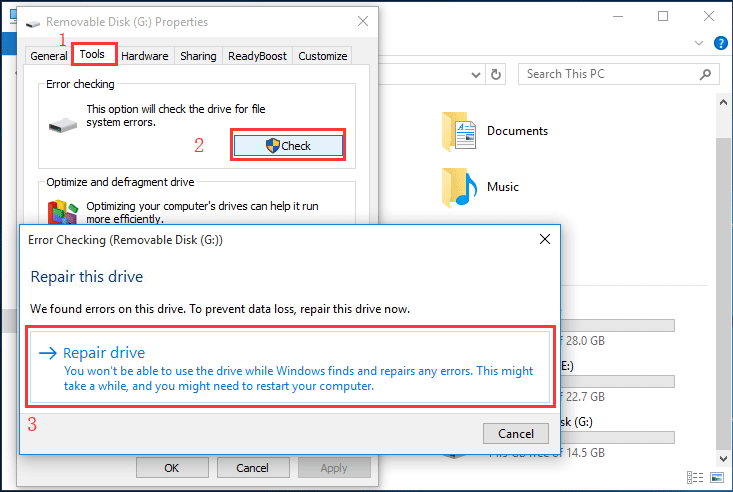 Chkdsk for bad blocks repairing? Read this tutorial: how to repair bad sector with chkdsk
#2 Best free bad sector repair software
This part includes several free bad sector repair utlities together with some excellent commercial tools that you may use them for bad storage drive repairing.
#1) IM-Magic Partition Resizer Free
As a completely free bad sector repair tool, IM-Magic Partition Resizer is able to help find and repair bad blocks on your storage media no matter it's the internal hard disk partition or external hard drive, usb flash drive or memory card that you want its bad blocks get repaired.
How to use IM-Magic Partition Resizer to find and repair bad sectors? Follow these steps.
Download url: https://www.resize-c.com
Download the free utility on a Windows computer
Insert your external hdd or usb stick to pc if it's an external drive that you want to repair its bad blocks.
Open Partition Resizer, and wait it to load your disk drives
Right click the one that you want to check and repair in Partition Resizer, select CHECK PARTITION
Confirm the repair options in the pop up window, and then start the repairing.
Pros:
Cost-free, Copy partition is available in the right click option which is useful since it provides free data backup
Latest Windows computer OS compatible
Easy to use interface
Repair bad blocks efficiently
Extra Bonus: You may backup disk or partition with this free tool as well as write zero or one into every byte of your bad blocks with it's WIPE PARTITION
#2 USB Disk Storage Format Tool
This utility provides checking disk sectors that you can easily find this function on its main interface. You may get the repairing started by simply select the check disk option and then run the utility.
Check Disk: Correct errors, Scan drive, Check if dirty (Get all these options selected, and click the CHECK DISK button)
#3 MHDD
MHDD is a professional hard disk detection and repair tool software, which has richer and more powerful functions than other hard disk tool software.
http://hddguru.com/download/software/mhdd/mhdd32ver4.6iso.zip
Official download options:https://hddguru.com/software/2005.10.02-MHDD/ (iso version, floppy image, and more download options on this url)
MHDD needs to work in the DOS environment, and can access large-capacity hard disks above 137G. When MHDD is running, there is no "menu" to choose from. Its functions are implemented in the DOS environment through command input, or automatically input commands through key combinations.
Video - how to use MHDD for bad sector repairing
MHDD can directly access the hard disk interface without relying on the motherboard BIOS, but be careful not to run MHDD in the detected hard disk.
It's better to insert the disk you want to repair bad blocks as a slave disk.
Note: MHDD needs to record data during operation, so it cannot run in write-protected devices, such as write-protected floppy disks, optical disks, etc. Please make a backup before repairing the bad sectors of the hard disk.
#4 Victoria for Windows
This is an old bad sector detecting and repairing utility that you may use it for repairing your damaged hard disk drive, external hard drive etc.
Download link: https://m.majorgeeks.com/files/details/victoria_for_windows.html
Tutorial: how to use Victoria for HDD bad sector repairing
#5 HDD Regenerator (NOT FREE)
This program is a commerical tool displayed on its official website http://www.dposoft.net/hdd.html
Some places claimed it was a free tool, probably it used to be a free tool, now it is listed as a commercial program with the price tag $59.95 to register.
Video - how to use HDD Regenerator to repair disk bad sectors
Get HDD Regenerator Free? Watch this following video
Note: We do not encourage a full version download since it may contain some hidden risks.
Our advice: Try the previous 4 free bad disk repair tools or you may buy a license of HDD Regenerator.
#3 Bad sector repair software on MAC
Usually Disk Utility provided by MAC OS is able to help repair bad blocks.
If Disk Utility failed, try the following method: repair disk using terminal on MAC.
Video - how to repair bad sector on MAC
fsck_hfs -r -d /dev/diskXsX (Replace X with your disk number)
Also read: how to repair usb bad sectors
Last updated on May 14, 2023
Related Articles