How can I recover deleted files from recycle bin after empty?
"Can I recover deleted files from recycle bin after empty?"
The answer is yes, but you will need a Recycle Bin recovery tool to retrieve files from the recycle bin under such circumstances:
It is an awful feeling when we emptied the recycle bin but found out the backup copy is gone/damaged as well.
Ultimate Recover deleted files solutions
In this case, iCare Data Recovery can be able to recover files from Recycle Bin, hard drive, external hard drive, SD memory card, USB thumb stick, camera/phone, etc.
>> Restoring Deleted Files Using 100% free tool

Download iCare Data Recovery to recover data from emptied recycle bin, or deleted directly. It works on almost all digital devices. And it is 100% free of charge to undelete files from recycle bin.
Video Tutorial: How to use iCare Data Recovery for deleted file recovery
Freeware to Recover Files from Recycle Bin after Deletion
Download freeware here: https://www.icare-recovery.com/data-recovery-free.html
Step1. Download and install the data recovery software on computer. Run the software and select a recovery mode.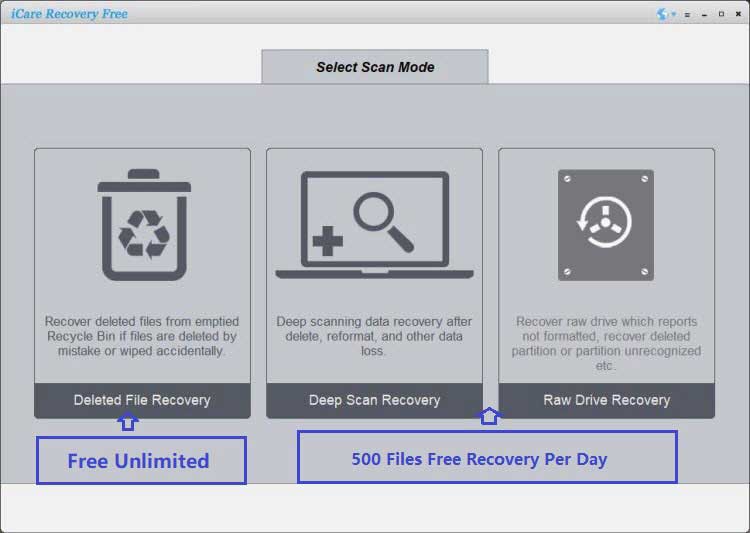 Free to recover files from Recycle Bin after deletion
Step2. Select the drive where data got deleted from and run the software for lost files.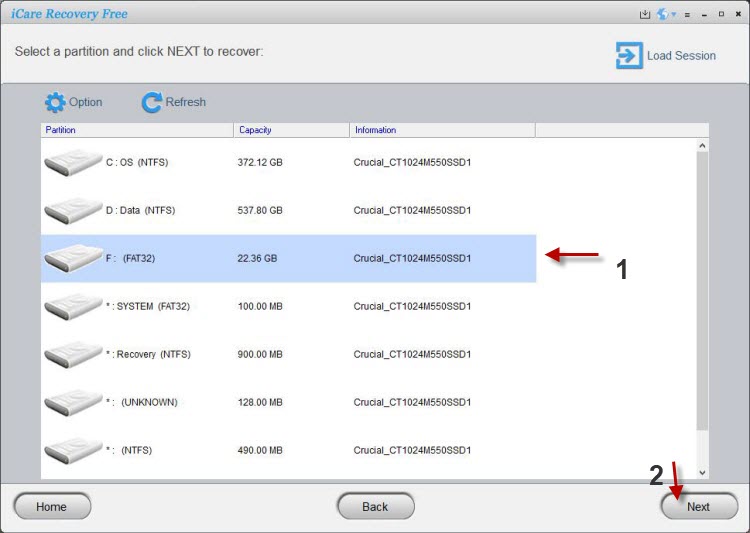 Free to recover files from Recycle Bin after deletion
Step3. When the scanning is completed, preview the found files. Simply save.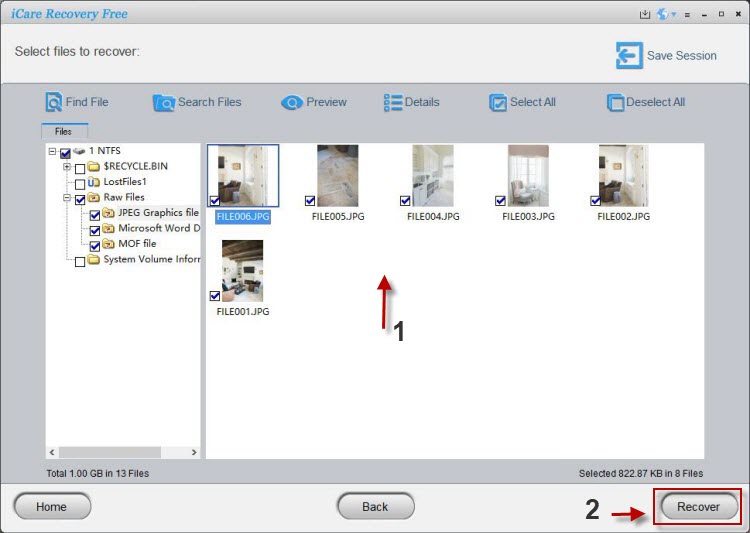 Free to recover files from Recycle Bin after deletion

Please try not to install any program on C drive if you want to recover files from the Recycle Bin.
Recycle Bin is on every Windows computer. It is a system file located in C drive. For recovering the Recycle Bin files, you need to install iCare on any drive besides the C drive to prevent data from been overwritten.
Retrieve Data Erased from Recycle Bin with a Command Line
Without any software or backup, command line will undo deletion and get back all mistakenly deleted files.
1. Press F8 when booting up your PC and then select Safe Mode with Command Prompt.
2. Select the OS and user name to start PC.
3. Type cd../.. and press Enter > type cd $Recycle.Bin if PC runs Windows 7 or later version or cd RECYCLER if computer runs Windows XP and press Enter button.
4. Type cd and press tab key, then you can see a directory name. After seeing this, press Enter. (showing as picture below)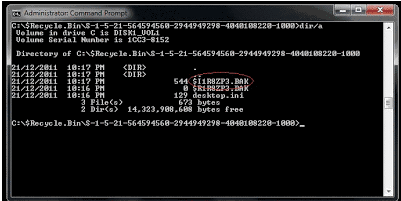 5.  Type dir/a to show all files >  Type copy [file name] [file location] > Type cd../.. > Type dir and enter > Type ren [file name]
Now, you can see all files deleted from the recycle bin. By using Command Prompt to undo all deletion, the file names do not present as original. If you are not a PC specialist, DO NOT TRY this method.
Also read: 5 free ways to undelete files using cmd
User's experience for Recycle Bin Recovery after Emptying it
Help!
I once met deleted error, everytime I delete my files, I know it will be stored in recycle bin, so I feel reassurance, but that day after I deleted my files accidentally, I thought it was in my recycle bin, but another stupid thing came, I emptied my recycle bin. All my data lost suddenly, I really didn't know what to do until my friend told me that iCare Data Recovery Pro would help recover deleted files from Recycle Bin. After I used it, I knew that what is the most efficient professional data recovery software. Many thanks to you.
---
Last updated on May 14, 2023
Related Articles
Hot Articles