5 Free Mac USB Repair Tools to Repair Corrupted Flash Drive
Background
Flash drives are widely used in daily life for work and entertainment, due to the life span of flash drives or possible errors and damages on flash drive, you may wonder how to repair damaged flash drive on MAC if they are unreadable, flash drive not showing up, flash drive has bad blocks, flash drive is not working...
Macbook and MacPro are welcomed by many users due to its fancy design and there are awckward moment that some users may only have Mac with no Windows computer, so usb drive repair tool for mac is required when their flash drives become corrupted.
In this article, we will share some useful free methods and free usb repair tools for MAC including some paid tools too since mac utilities are limited compared with Windows usb repair tools to fix damaged pen drive especial when you want to
Repair unreadable pen drive on MAC
Fix a corrupted flash drive without losing data mac or recover corrupted files from flash drive on mac
Fix damaged usb drive on mac without formatting
Repair corrupted flash drive with mac terminal

Lucky if you have a Windows computer: 8 free usb repair tools for Windows 11/10/8/7
Tool 1 - Recover corrupted files from flash drive on MAC with freeware
Lazesoft Mac Data Recovery would be a nice choice for recovering files from damaged flash drive on mac since it is a free program that won't ask a pay.
Step 1, Download Lazesoft Mac Data Recovery to MAC machine, connect your flash drive to your macbook or mac pro, and then run this free mac flash drive recovery tool to scan your flash drive.
Step 2, Save data
Video - How to recover files with Lazesoft Mac Data Recovery

Also read: 5 free data recovery software for mac
Tool 2 - Repairing Corrupted Flash Drive on Mac with Disk Utility without formatting
Disk Utility provides First Aid in the first tab in its main interface to provide storage device repairing that you may get access by the following route to start damaged disk or unreadable disk repairing. Here are the steps to launch Disk Utility in Mac
Video Guide - How to repair a mac disk or usb
Step 1 - Reboot your MAC and press Command + R during the reboot and get into mac recovery mode
Step 2 - Click Disk Utility
Step 3 - Select your flash drive on the left panel of disk utility -> First Aid -> Repair Disk and run it.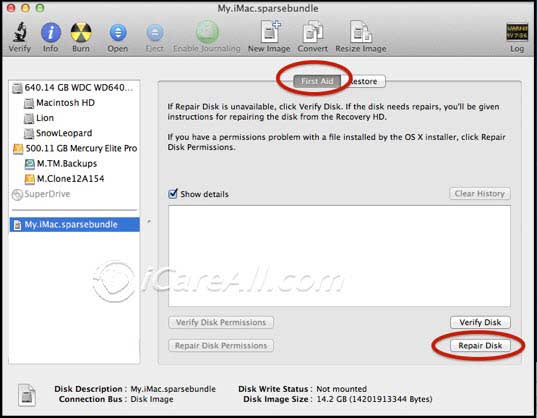 Repair usb mac with first aid without formatting disk
If the first aid does not work for your damaged flash drive, here is another option that you may use its 'Erase' to get usb drive repaired.
The formatting could easily fix various kinds of damages on flash drive especially when the flash drive has logical damages with MAC built-in repair utility - Disk Utility that you may get your damaged pen drive formatted and mostly it would work.
Note: Erase in disk utility is formatting! And erasing/formatting would get your data deleted so that we recommend the first mac data recovery tool as tool 1 to get your data restored before all this.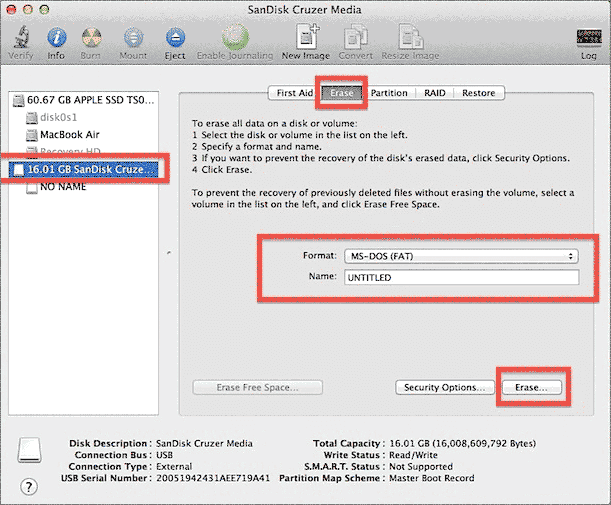 Erase pen drive as repair utility in MAC
Also read: 7 usb formatters in mac
Tool 3 - Repair damaged usb or disk with WD Drive Utilities
A tool that you may use it to diagnose errors and then fix damaged usb flash with erase too.
Download url
https://downloads.wdc.com/wdapp/WD_Utilities_Standalone_Installer_Mac_2_1_1_119.zip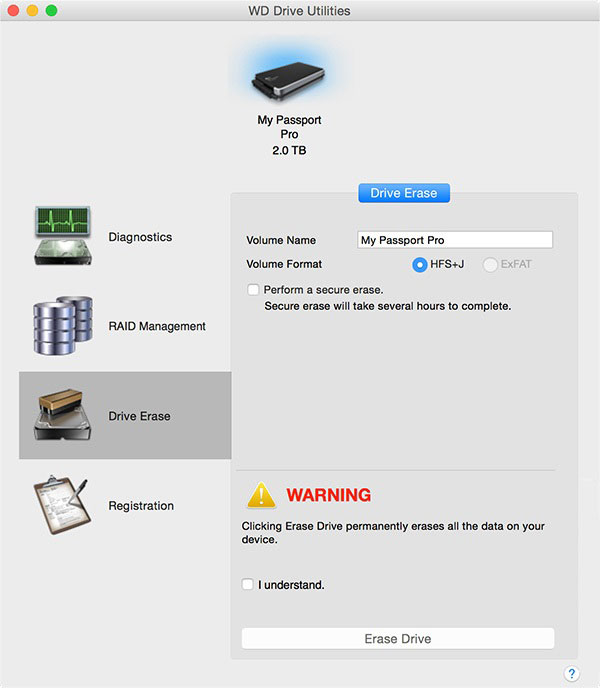 WD Drive Utilities formerly WD Quick Formatter
Can you repair usb drive on mac without formatting
Yes, you may try to repair damaged flash drive by disk utility with its first aid function to get damaged flash drive repaired without formatting.
If Disk Utility first aid failed to repair your flash drive on Mac and you don't want to format the flash drive, then you may try to repair flash drive on Windows since Windows has a lot of repair utilities for flash drives.
Also read: how to repair flash drive without formatting
How to repair flash drive with mac terminal command - Video Guide
Is there any mac terminal to fix damaged usb flash drive? You may use command line in mac terminal to fix damaged disk or flash drive by the following methods.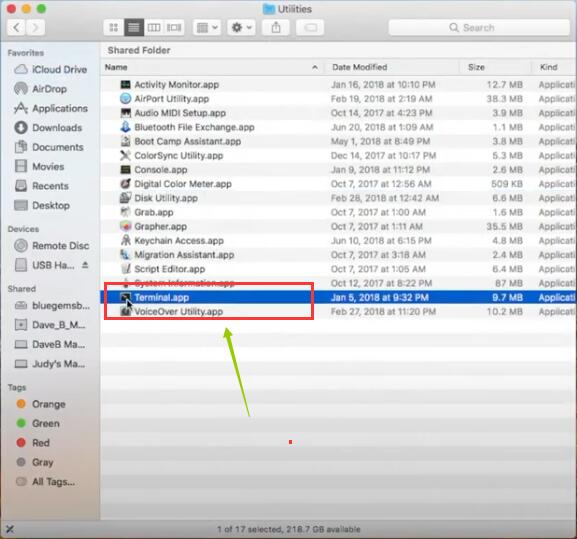 Start mac terminal
Way 1
Step 1: Get your disk/usb flash connected to MAC
Step 2: Start terminal in mac
Step 3: Start disk utility
Step 4: Type 'diskutil list'
Step 5: Type 'diskutil verifyDisk /dev/disk2' when disk2 is the one that you need to repair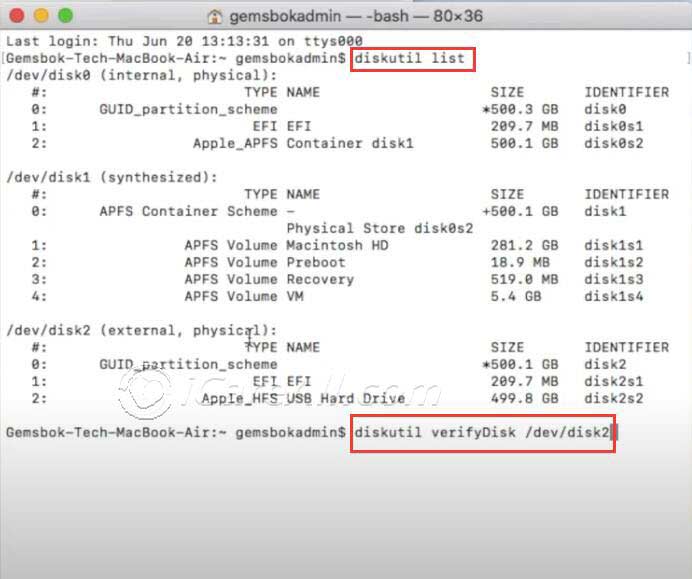 Repair usb drive mac command line
Way 2
Step 1: Get your disk/usb flash connected to MAC
Step 2: Start terminal in mac
Step 3: Start disk utility
Step 4: Type 'diskutil list'
Step 5: Type 'diskutil repairDisk /dev/disk2' when disk2 is the one that you need to repair
Step 6: Type 'Y' to confirm the repairing disk on mac with terminal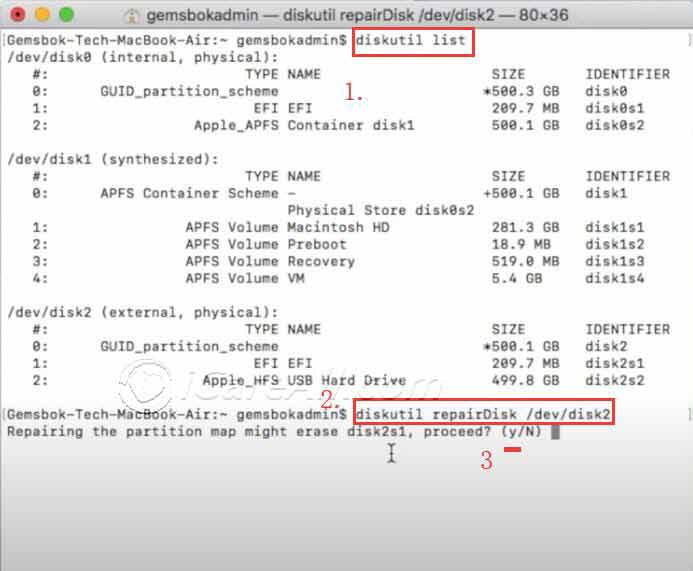 Repair usb drive mac command line
How to repair disk or usb flash not showing up error on MAC - 7 ways
Last updated on May 14, 2023
Related Articles