Free Sandisk Repair Tools for Sandisk Flash Drive, SSD, Memory Card
Summary
How do you fix a broken sandisk flash drive or memory card? Is there any sandisk repair app for repairing damaged sandisk media with free sandisk recovery/format tools online? This article tells all about sandisk repair/recovery.
Looking for Sandisk format tools? => Jump here
This article contains four parts including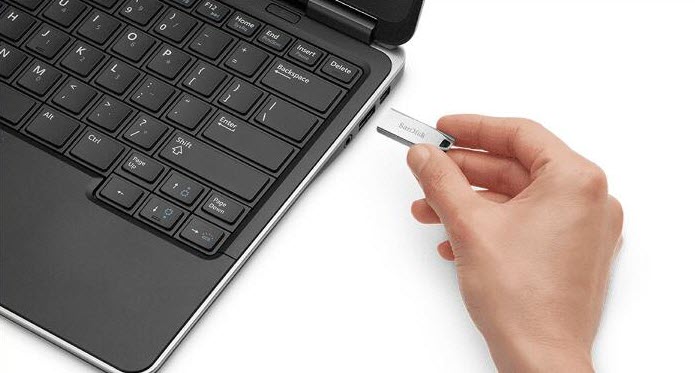 Sandisk pen drive repair utility
7 Free Sandisk Repair/Recovery Software
#1 Sandisk SD/Pendrive/SSD Data Recovery Software
The first recovery tool comes for the Sandisk inside data when your flash memory stored files and became corrupted, it is essential for performing sandisk data recovery ahead of all the rest repairing.
You may go to the #2 repair tool if you don't care about the data inside of your sandisk flash memory.
Step1. Download iCare Pro Free, and connect your flash memory to your computer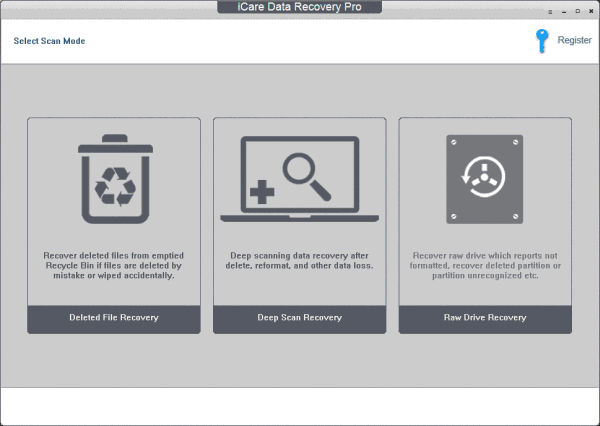 Step2. Wait the software to scan your Sandisk card/drive.
Step3. Restore them to another destination.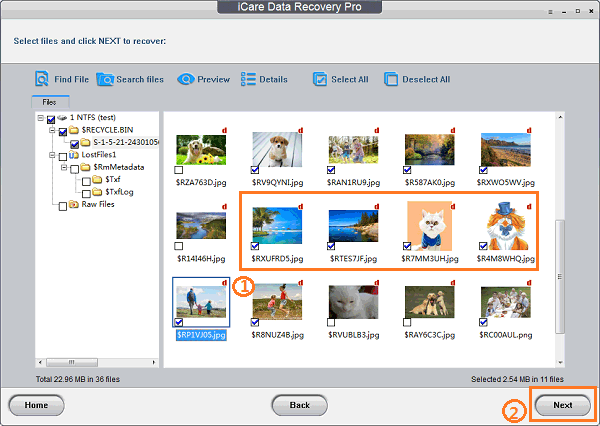 Once your files in Sandisk usb/sd/ssd are recovered, you may use what ever programs to repair the damaged Sandisk storage devices, we just won't recommend you do a low level formatting.
Also read: sandisk cruzer data recovery
#2 Repair Sandisk USB/SD with Windows Error Checking
Windows provides built in utility called 'Error checking' for any digital devices that you may use it for repairing unknow bad blocks, bad file systems... This could be ranked as the easiest Windows 10 Sandisk repair tool.
How to open Windows error checking? Follow this route.
This PC -> Flash Drive/SD, right click -> Properties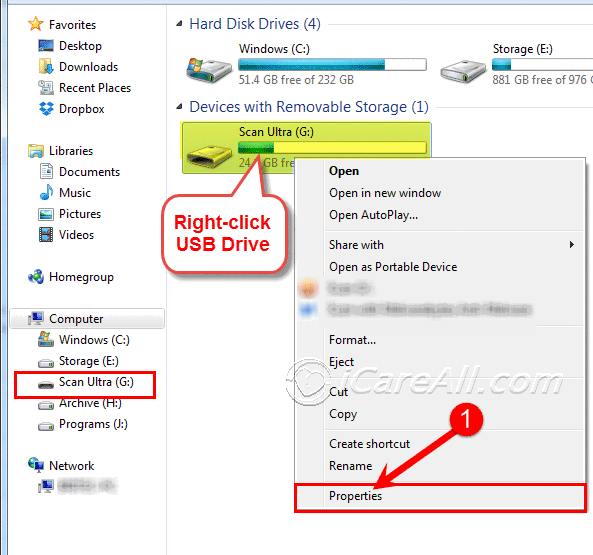 Right click Sandisk usb drive properties to start repairing in Windows 10
The repair tool in Sandisk flash memory located under its Properties -> Tools -> Check, and you may start the repairing.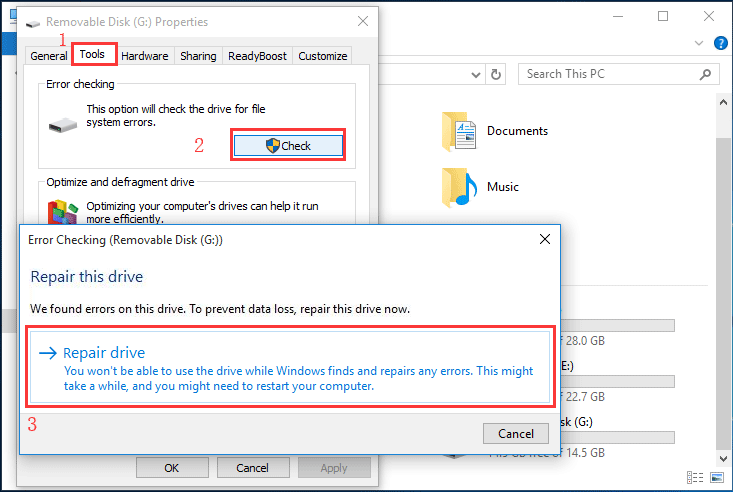 Repair Sandisk flash drive in Windows 10 with Error Checking
Video - how to repair corrupted sd/usb flash drive
#3 Repair Sandisk Registry by Sandisk official guide
Sandisk official site shares the damaged sandisk could be caused by corrupted registry that they recommend delete this registry and then reinstall the Sandisk flash memory device to get the problem fixed. Here are the steps to follow.
Step 1. Back up the registry
1. Remove your Sandisk flash memory from your computer.
2. Run regedit.
Window 10: Type regedit, in the 'Search the web and Windows' field and start it
Windows 7, 8 and Vista: Click the Start button, type regedit in the search box, and then press Enter.
Windows XP: Go to "Start" > "Run", type in regedit and then click "OK".
3. From the registry menu, choose "File" > "Export".
4. Name the file SNDK.reg and save it to your computer.
This backup would restore everything back to normal if you have mistakenly edited the registry incorrect.
Step 2. Remove VID_0781, the SanDisk registry info (Only the Sandisk Registry VID_0781)
1. Start 'regedit' from the 'Search the web and Windows' in your computer, click "Edit" and choose "Find".
2. Type in VID_0781 and click "Find" Next.
3. Delete it by right clicking the registry key VID_0781 and select "delete" in the option. Not finished, more VID_0781 to delete in the following steps.
4. Press the F3 key on your keyboard to find other keys that includes VID_0781.
5. Right-click every key that includes VID_0781 and delete them one by one.
6. Repeat this process until No results Found.
7. Reboot your computer and insert your Sandisk storage device into your computer for new installation by the pc.
NOTE: If some registry keys containing VID_0781 reported as "* be protected and cannot be deleted", just skip them.

Source: https://kb.sandisk.com/app/answers/detail/a_id/205/~/sandisk-device-not-detected-by-windows-pc
Recommend: more solutions for Sandisk usb flash/disk not detected fixing which provides an easier way to fix the registry error on Sandisk device by deleting it in device manager and then reload in computer, scan for hardware changes to bring the not detected Sandisk back to computer.
#4 Sandisk Repair Tool - HP USB Format Tool to format sandisk sd/usb fat32/exfat
When your Sandisk usb flash or sd is not working, Sandisk format tool like HP USB Format Tool can fix the errors by formatting it. You may choose file system fat32/exfat/ntfs as you wish in HP USB Disk Storage Format Tool.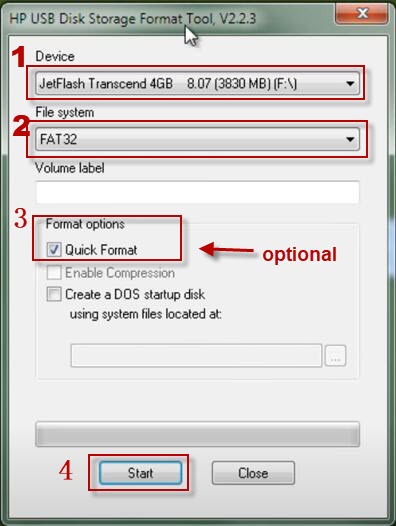 HP usb format tool as Sandisk format tool to fix sandisk usb/sd errors
More about: HP USB Format Tool and 5 free alternatives, or usb format tools free
Note: when we Google 'sandisk usb repair tool', Sandisk website pop up in the list with its page, included below, telling users to format sandisk usb flash drive to fat32 format using third party applications, however the tool fat32 format linked on Sandisk page to https://www.ridgecrop.demon.co.uk/guiformat.htm was not opening, probably due to server overload or server down time.
https://kb.sandisk.com/app/answers/detail/a_id/19258/~/formatting-sandisk-usb-flash-drives-in-fat32-format-using-third-party-windows
It proves one thing - Sandisk recommend users to fix damaged sandisk flash memory by formatting.
What we see from the story
You may fix your sandisk usb/sd/ssd by formatting
Good news, here are a few sandisk formatters as options, see 8 usb/disk format tools here
#5 Repair Damaged Sandisk with cmd chkdsk
You may use 'chkdsk h: /f' to fix your sandisk usb/disk (h shall be replaced with your own sandisk drive letter in your computer).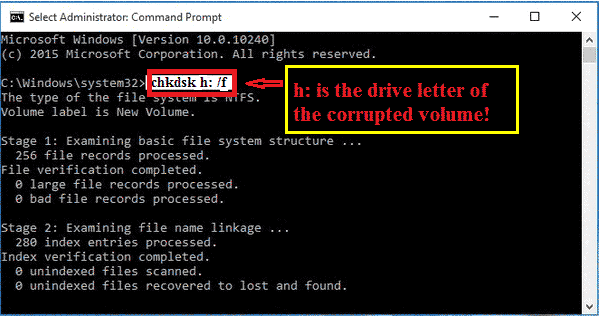 #6 Repair Corrupted Sandisk with cmd diskpart format/convert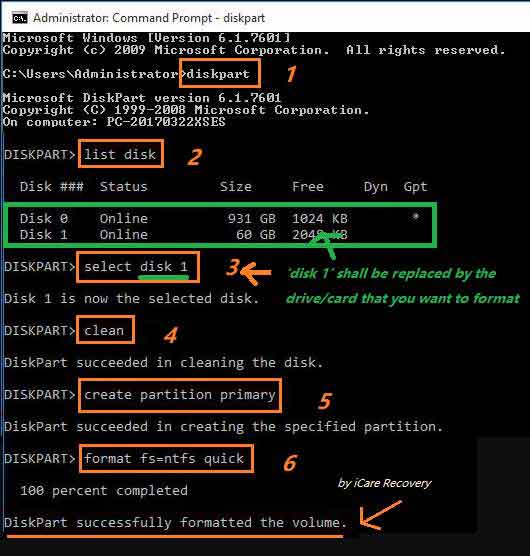 #7 Repair Corrupted Sandisk with Partition Master Free
Easeus Partition Master Free provides many functions for repairing your flash devices including formatting Sandisk usb drive, deleting Sandisk usb, creating new partition for Sandisk device, repairing damaged MBR in this free tool that worth a trial for your corrupted device.
Download url: https://download.cnet.com/EaseUS-Partition-Master-Free-Edition/3000-2248_4-10863346.html
Sandisk Repair/Recovery Tools for Android
We understand it sometimes users may only have mobile phones and they may want to repair their Sandisk SD/USB/SSD with android phone. Here are some quick fix you could do with your phone to repair damaged Sandisk sd/usb/ssd. (Formatting Sandisk in phone to get it repaired)
Insert sd card to phone, insert usb flash drive or ssd to phone using OTG
Navigate to Sandisk storage media in phone under Storage Settings
Erase/Format sandisk usb/sd/ssd to regenerate it since formatting can repair logical damages for Sandisk media
Better idea? Repair Sandisk storage media in Windows computer which has more repair options.
Common Errors on Sandisk Flash Drive SSD SD Card And Solutions
EASY, EASY, EASY!!! It's not big deal when your Sandisk usb stick or SSD became damaged when you have restored your files successfully and there is no important files inside of the Sandisk usb flash drive. You should get files rescued the first time.
The manufacturer never want to produce Sandisk to get damaged, however there are risks for digital devices to get damaged due to three kinds of causes
Life span limits, the least problem causing
Manual errors brought by human improper operations, the errors caused by users themselves
Third party damages like a malfunction caused by third party programs, virus, antivirus software, software failure...
Here are a lists of errors that may happen to your Sandisk usb flash drive or Sandisk SSD, memory card.
Error #1

- SanDisk USB Flash Drive Cannot Be Recognized, Not Showing UP Fixes
Fix #1 - Update sandisk usb/sd driver on Windows 11/10/8/7 computer in device manager
Update sandisk usb/memory card driver by chipgenius
Update sandisk usb/flash memory sd with Broadcom USB Driver
Video - How to update sandisk usb/sd with Broadcom driver update tool
Also read: Sandisk cruzer not detected, or sandisk driver download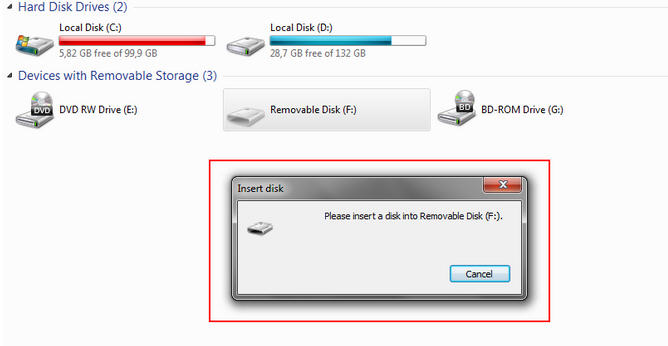 Sandisk usb drive not recognized in computer
When your Sandisk flash drive could no longer be detected, it won't show up in Windows 11/10/8/7 Computer, or it shows blank in computer, or you Sandisk sd card cannot be detected in camera or mobile phone.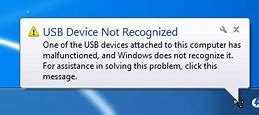 Sandisk usb drive not recognized in computer
Also read: Sandisk usb drive not recognized
Error #2 - SanDisk USB Drive No Media or SSD Shows No Media
When you connected you sandisk flash drive, ssd or memory card to your computer, it may show no media in disk management or it reported there is no media in the device by diskpart.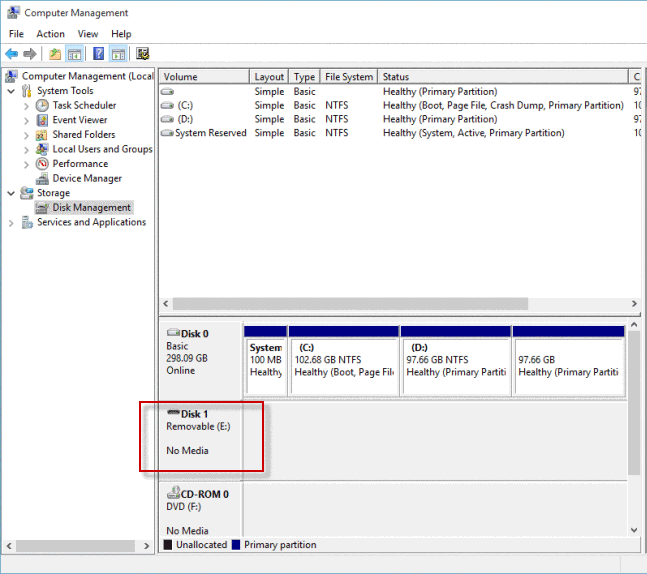 Sandisk no media in disk management
Error #3 - SanDisk USB Write Protected - Can't Format/Delete
When you try to save data to the sandisk flash drive, or ssd, it may report with error message saying it is write protected, especially when you want to format sandisk cruzer or blaze, it just keeps unchanged.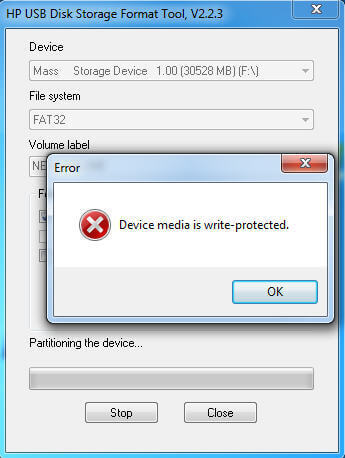 Sandisk usb drive write protected cannot format
Solution - when it is unable to format sandisk usb/ssd, unable to delete its files, unable to change the inside data, it means your sandisk flash drive is with write protected.
-> Quick Fix: you may remove the write protection by the following cmd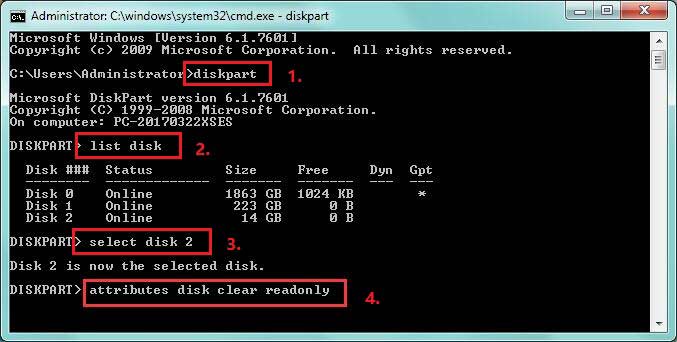 Remove write protection by resetting the computer registry
Also read: how to remove write protection on sandisk usb
Error #4 - SanDisk USB Pen Drive or SD Card File System RAW Repairing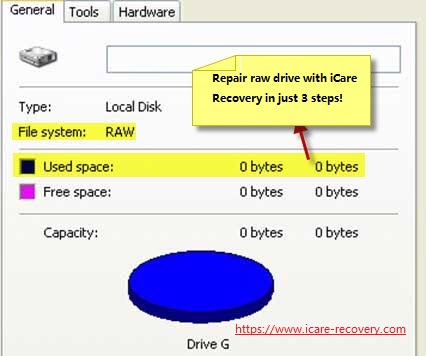 Sandisk usb flash file sytem raw format used space shows 0 bytes
Related: how to fix flash dive file system raw, or raw file system recovery free
Error #5 - SanDisk Other Errors
There are other frequent errors for Sandisk flash memory such as
Windows can't format sandisk cruzer
i/o device error on sandisk ssd
Sandisk usb won't format write protected
Sandisk flash memory is not formatting error and asks for reformat
Sandisk reported drive not accessible
Access denied
File or directory is corrupted unreadable
Sandisk unknown not initialized...
What if Sandisk could no longer be repaired?
When the Sandisk usb flash drive or memory card will not work no matter what repair tool have been used for the fixing, the damage was beyond repairing? This could happen when it is running out of life span, the chips are dying... or it had suffered physical damages and could no longer be repaired, here are some solutions for you.
Turn to a local repair shop for help
Ask Sandisk for dedicated support
Buy a new Sandisk device or other brands
Don't worry, Sandisk Pen Drives are not that expensive, Sandisk memory card, sdhc, sdxc, micro sd card, mini sd card are ranging from low price to high price, Sandisk SSDs are a big cost for many users. Next time, be careful when you encounter the same situation that may bring the loss. Just try to avoid the damage and loss.
Sandisk Flash Memory Was Damaged
Background
As we know Sandisk, one of the well-known manufacturers of flash memory devices, has been acquired by Western Digital, the new owner of Sandisk, all sales of Sandisk flash memory products and support service are hosted by Western Digital.
Flash memory devices such as flash drives, memory cards are mostly used for work and entertainment, and ssd, shorted for solid state disk, is favored by many customers and Sandisk has been one of outstanding large manufacturers for such flash memory drives.
First Things First
When your Sandisk flash memory stick, ssd, memory card became corrupted, inaccessible, unrecognized..., the first thing is to stop using your usb flash drive, or ssd. Here is a list of what's emergency to you.
Retrieve data from Sandisk usb flash drive, ssd or sd with iCare Pro Free when the data inside of the sandisk are important and we would recommend you download it to start free sandisk recovery.
Stop saving new data to your Sandisk usb flash drive since any new file would overwrite the old files on the flash drive
Stop making changes to the usb stick if the inside data are important to you
Try to avoid formatting it with low level format tool since low level formatting is risky and it would shorten the life span of Sandisk flash memory storage devices
Also read: sandisk repair mac
Last updated on Nov 01, 2022
Hot Articles