4 Free USB Bad Sector Repair Tools (with/without computer)
This page introduces several ways to repair bad blocks on usb disk or usb flash drive for free.
Before the repairing, there are some must-do items that you need to do for a safe usb repairing.
#1 Back up data from usb flash drive to another storage media, such as another removable hard disk, the computer hard disk partition, another usb flash drive that is healthy... The key is to backup the data for data safety no matter what storage media you used for the backup.
#2 Retrieve data from usb flash drive if it is no longer working (inaccessible) especially when it had important files
How to check usb flash drive for bad sectors?
You may use free tool IM-Magic Partition Resizer Free which can help find bad blocks on your usb flash drive, or you may use Error-checking in Windows computer that can help find the bad blocks. (Usually the following free tools can help find and repair bad blocks during the procedure.)
Here come the free usb bad blocks repair tools.
#1 USB Bad Blocks Repairing without Software on Windows 11/10/7
The bad sector repairing is provided by Windows operating system that you may use any computer that installed Windows OS no matter Windows 11 or 10 or the old 7 Vista XP...
Here are the steps to start repairing your usb disk or usb thumb drive.
Insert usb stick to pc (not detected? Insert it to the usb socket from back side of your computer it it's a desktop computer; if it's a laptop that usb flash drive was not detected, see solution here: how to fix usb not detected with 10 methods)
Open THIS PC, right click your usb flash drive -> Properties -> Click Tools tab ->Click Check now... (In Windows 10, it would be "Check")
Confirm the check disk option and get all options selected in the pop up box, and click Start button to start repairing (In Windows 10, you just need to click Repair drive option)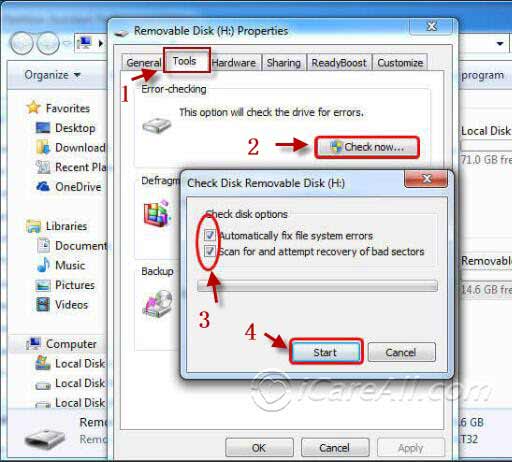 Repair usb bad blocks with Error-Checking in Windows 7
Note: It would be a little different if your computer is a Windows 10 computer, and the repairing steps would be like this. (The procedure will be different on a Windows 10 computer. It would ask you to click ->Repair drive to proceed the repairing.)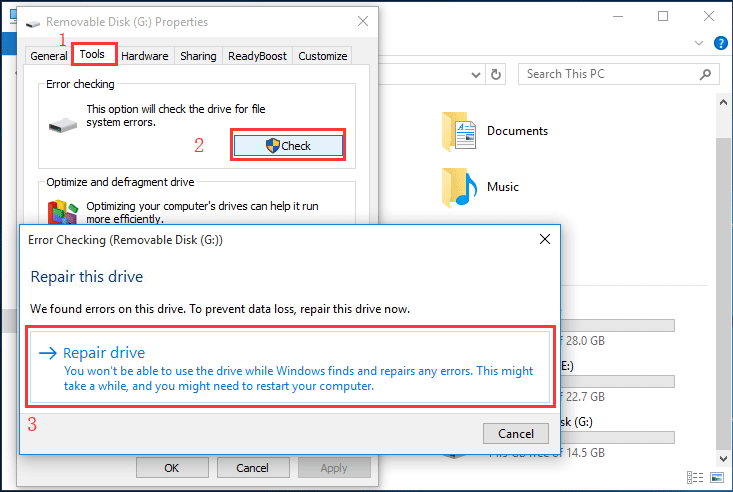 Repair usb bad blocks without software in Windows 10 by using Windows built-in utility Error Checking
#2 Free USB Bad Sector Repair Tools on Windows 11/10/7
IM-Magic Partition Resizer Free is a free utility that can fix bad blocks on usb flash drives or hard disks or any removable storage media with its Check Partition function. Here are the steps.
Download and install, insert your usb drive to pc and open this tool
Right click your usb flash drive in this free tool once it loaded the storage drives in the software
Click CHECK PARTITION option
Confirm the repairing
#3 USB Disk Storage Format Tool
USB Disk Storage Format Tool is another free usb repair tool that you can use it to find and repair usb bad sectors and correct the errors as well as formatting the usb stick or disk with the free tool.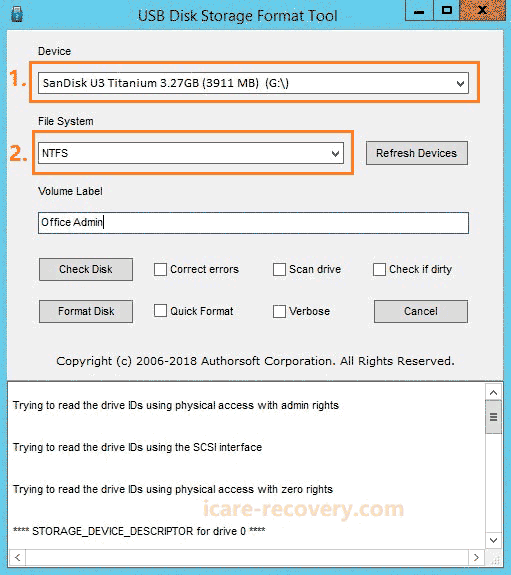 #4 Repair usb flash drive bad sectors without computer on Android phone
An OTG cable can help get usb flash drive connected to Android phone for repairing(formatting) with the following steps.
Buy/borrow an OTG cable and get your usb stick connected to android phone
Go to storage tab
Select 'Format USB' and confirm the formatting which would help fix logical errors on usb stick
Pros: It's easy to use it on a phone if you don't have a computer
Cons: OTG is needed.
Also read: how to format usb on android phone
Note: the usb drive formatting on android phone can only fix some logical errors and it is not the bad blocks repairing.
#5 Repair usb stick bad sector with cmd
CHKDKS command can help remove bad blocks on your usb stick or usb disk. This free command is provided by Windows computers with the following steps.
Press Windows + R to open the Run box, type cmd, and press Enter to start the cmd Windows command prompt window. (You need to run the cmd with the admin privilege)
Type chkdsk E: / f / r / x and press enter key to fix usb drive E which must be replaced by your own usb drive letter. For example, if your usb drive shows drive F, you need to type this command line chkdsk F: /f /r /x and then press enter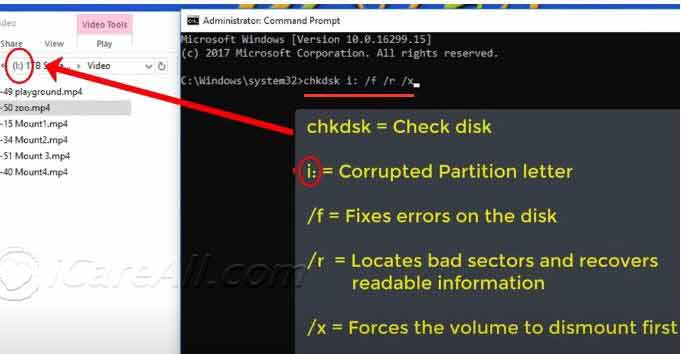 What does chkdsk /f /r /x mean?
The /f parameter tells CHKDSK to fix any errors it finds.
The /r parameter tells it to find bad sectors on the drive and restores readable information.
The /x parameter forces the drive to be unmounted before the process starts.
Pros: Free utility provided by Windows.
Cons: Chkdsk is not easy for everyone.
Related FAQs
Question: How do you fix bad sectors on a usb drive?
There are many ways to repair bad blocks on usb drive including free usb bad block repair tools or with Windows built-in error-checking utility or repair the usb bad sectors on android phone without a computer...
Question: How do I run chkdsk on a usb repair?
Here are the steps to run chkdsk on usb flash drive on Windows computers.
Insert usb flash drive on a WIndows computer, and remember its drive letter, here we make it drive E as an example
Run cmd from Start -> Run -> Type cmd and press enter (You need to start pc with admin privilege)
Type chkdsk E: /f or chkdsk E: /f /r or chkdsk E: /f /r /x to run the chkdsk on flash drive when it shows drive E in your computer (You need to replace E with your own usb drive letter, for example, if your flash drive shows drive letter H, then chkdsk command shall be chkdsk H: /f or chkdsk H: /f /r or chkdsk H: /f /r /x)
Also read: how to repair usb bad sectors
Last updated on May 14, 2023
Related Articles