Low Level Format SD Card - 4 Ways (Android, Camera, Windows, Mac)
Background
How do I low level format sd card in Android mobile? Is there any low level formatting in the mobile phone when the sd card is not working? Is it able to repair the damaged memory card by low level format to make it a brand new flash memory card?
New memory card -> Do I need to get a low level format for the sd card?
The answer: No, you may just get it initialized for storage (ready to store data)
Old/Corrupted memory card can be regenerated through the process of low level formatting; however it would shorten its life span. Here are 10 ways to fix corrupted sd card that may avoid a low level formatting.
Recommend: 10 ways to repair damaged sd card, or fix sd card unable to be formatted with 6 free ways
This article shares the following contents
Memory Card Low Level Format Tools - 3 Free
#1 Low level format sd card in Android phone
Here are ways to get memory card sd/microSD formatted in your mobile phone. (Not low level formatting)
Menu > settings > storage > erase SD card.
Menu>settings>sd/phone storage>unmount sd card>format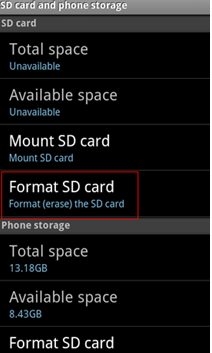 Technically, the above ways are not the low level formatting sd card in android but just the ways to make the sd card work for your phone. If you need a real low level format tool for sd card, try the following ways.
#2 Low level format sd card in Camera
Settings -> Format SD Card -> Low level format (needs to be selected)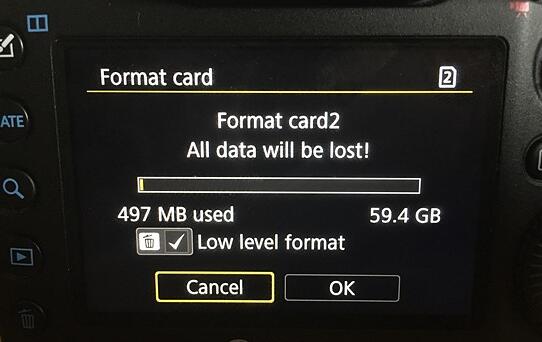 #3 Low level format sd card in Windows 11/10/8/7
Low level format tools can be applied for formatting the memory card that you need to connect your memory card to Windows 11/10/8/7/Vista/XP with a card adaptor or you may insert it to your computer if it has an sd card built-in adaptor.
HDD Low Level Format Tool (Freeware)
This program provides low-level format option for users to get their devices formatted per the requirement of low level standard. (Device would risk life span shorten damages with low level format)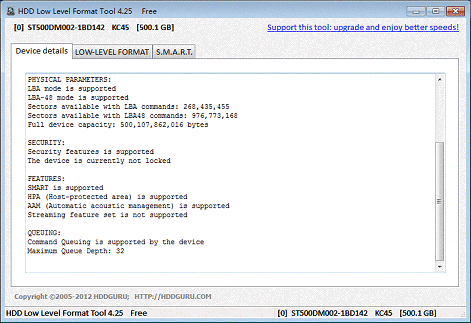 Better option - Partition Resizer Free (Freeware)
IM-Magic Partition Resizer Free is able to get device repaired and erased completely without any harm through its "Check Partition" and 'Wipe Partition', which could do almost safe low level format per users' need.
Step 1 - Download and install the program on Windows computer, connect your device to computer, open the freeware
Step 2 - Right click your memory card that shows in the software -> Wipe Partition to get it low level formatted without any risk.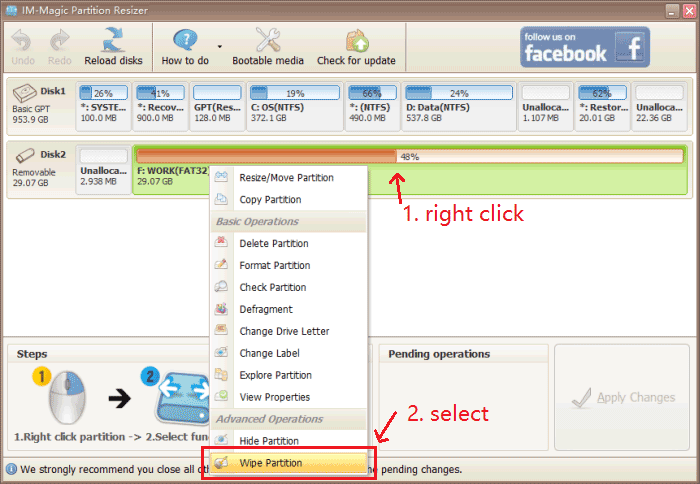 Step 3 - Choose a low level formatting method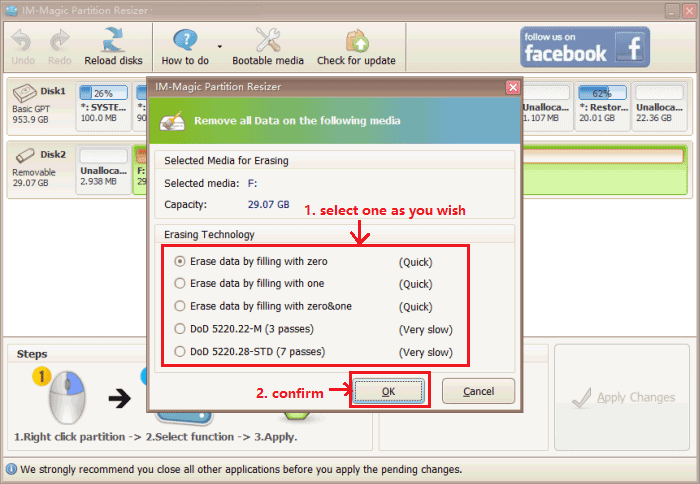 Another option - MFormat (A low level format that is operated in DOS)
MFormat is a dos based low level format that is an option for advanced users.
MFormat information https://www.gnu.org/software/mtools/manual/html_node/mformat.html
Video - how to use Mformat
#4 - Low Level Format SD Card Mac
Is there any low level format tool on mac? How to get an sd card low level formatted on MAC os?
The fact: you don't have to do the low level formatting on MAC since the erase function provided by Disk Utility is what you want for getting sd card formatted on MAC.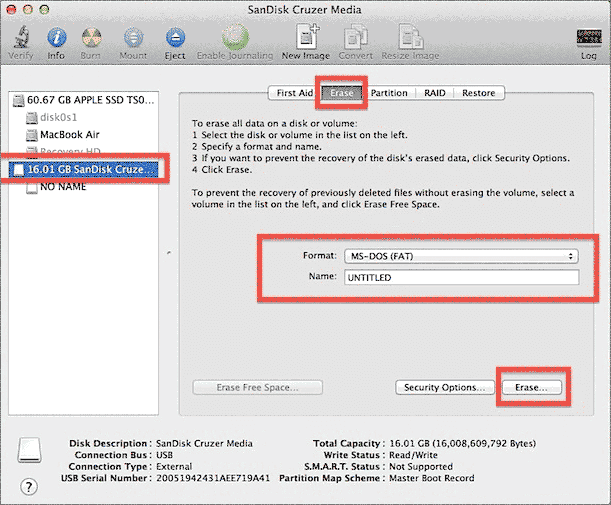 Also read: how to format sd card fat32 on MAC, or how to force format sd card on mac
More format tool alternatives
Low level format sd card recovery
The Question: How do I recover low level formatted sd card?
If you have accidentally low level formatted sd card, or any memory card, it's likely to unformat the sd card if the format is a regular formatting by restoring the sd card data.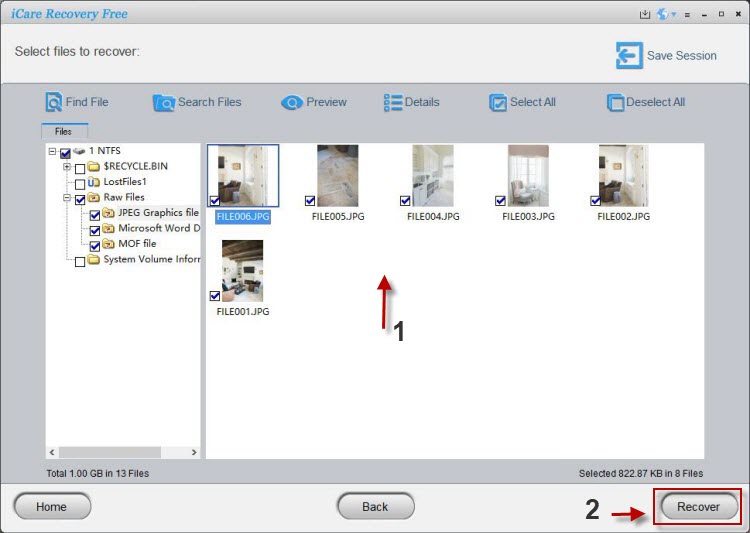 Recover formatted sd card with iCare Pro
If this unformat program cannot find your sd card data, it's likely that your sd card has been low level formatted that cannot be restored by any third party tools.
Solution: you need to turn to a local data recovery service center for manual recovery.
Other frequent asked questions
???Erase SD Card VS Format SD Card VS Low Lelvel Format SD Card in Android
Is format sd card the same as erase sd card in android mobile phone? Is there any low level format sd card in android mobile?
Answer -> The erase sd card option is the same as to format it provided by the android mobile and there is no low level format option in android phone.
Solution -> You may get the sd card formatter with Windows computer which provides more format options and format tools for memory card.
???How to perform low level format of Sandisk 32gb SD card
Answer -> Get Sandisk sd card low level formatted on a Windows computer and mac computer with format tools.
???How do I low level format my microSD card for Android mobile
Answer -> If it's the new bought memory card, you may get it ready for use by initialzing it in your device that would make the memory card compatible with the device. If it's an old memory card, you may get it formatted by the above ways.
???Can I low level format read-only micro SD card that cannot be formatted
Answer -> Here are 5 free ways to fix unable to format sd card problem, or you may read how to format write protected sd card.
Damaged memory card? -> 7 free sd card repair tools
Last updated on May 14, 2023
Related Articles